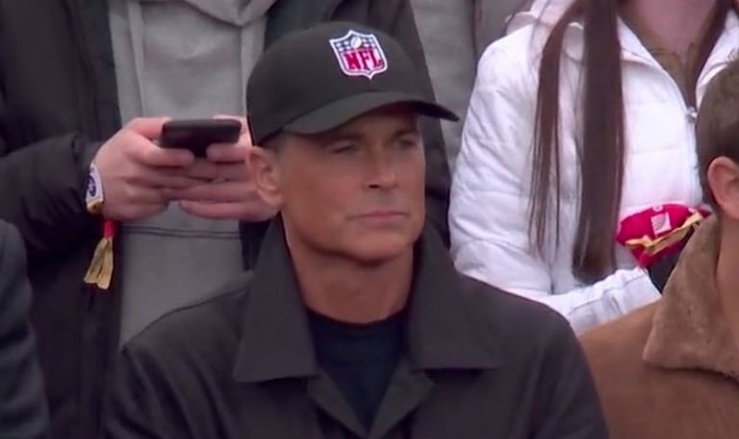 The points have been tallied, the controversial dust has settled, and now the corks can begin to pop – the YHWD Fantasy Football League has officially crowned a 2022 Champion.
| | |
| --- | --- |
| What will be my rad name? | 114.38 |
| Streez Nutz | 60.5 |
Simes capped off a memorable year as the season high-scorer with perhaps the most memorable championship game in league history. Upon reading that, you might think it suggested the game came down to the wire and he eeked out a dramatic nail-biter of a victory in some sort of miraculous fashion. But that wasn't the case at all. In fact, he nearly Double-Up Douchebagged the juggernaut that is Streez Nutz.
No, it will be memorable because he went into the last game of the championship week up on Strat with the same score that ended up being the final despite Strat having three players left to play. And not just any three players – Josh Allen (#2 QB), Stefon Diggs (#4 WR), and Tee Higgins (#17 WR). Projections had these three combining for nearly 50 points, which would indeed have brought this game down to the final whistle.
So what happened? Well, we'd all like to believe Simes had nothing to do with it (and for the record, I do not subscribe to the theory claiming he was practicing Voodoo at the time, but I also was not with him at the time, sooo…), but one of the players in that final Bills/Bengals matchup collapsed on the field from a collision-induced cardiac arrest midway through the first quarter. The NFL correctly decided to suspend play and later cancelled the game altogether and announced they would not replay the game at all. It was ruled a no-contest and as such all fantasy players from the matchup were given zeroes. (Damar Hamlin, the injured player in question, did survive and recover from the traumatic incident).
This left the YHWD Fantasy Football League in a precarious situation – how do we declare a winner? The future Champ himself laid out three different pathways to resolution: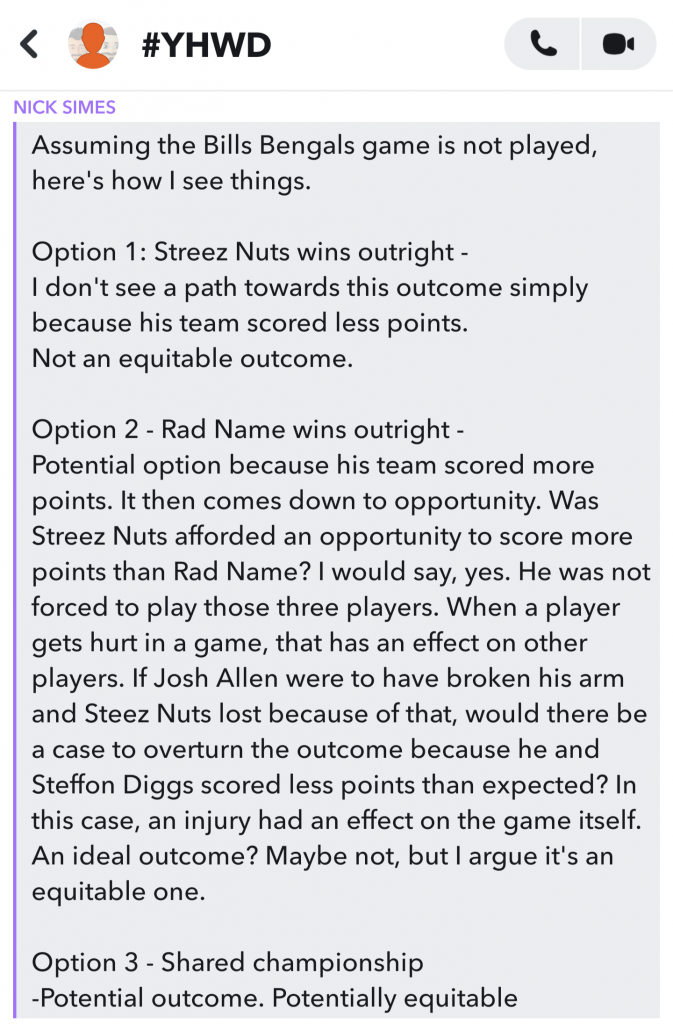 Luckily, because this league has a reputation and knack for coming together as one during times of dispute (LMFAO), everyone was in agreement with Option 2 and on board with crowning Simes since his team likely had a score just out of reach regardless of what happened. The League would like to especially thank Strat, who could have rightfully planted in protest but instead chose to handle the situation amicably. While we here at YHWD salute you, America would undoubtedly frown; STAND FOR YOUR F***ING ANTHEM!!!
So now the only thing left is the most important question of them all – what will be the rad team name of Simes' victorious squad?
Hamlin's Heroes?
Runnin' With The Devil?
The Knight of No-Contest?
Per the Champ himself, "You know, I'm not sure right now. I'm just going to take some time off, let this soak in, maybe think about it over the summer while sipping on a glass of oligonucleotides. We'll see. You don't want to rush these things."
Wise words from a wise man. After all, you only get one shot at something like this.
Until next year,
Paste